Artists for Charity

Ethiopia
Artists for Charity Association (AFC) provide home and community based care for Orphans and Children living with HIV/AIDS in Addis Ababa, Ethiopia.
AFC is a non-governmental, nonprofit organisation established in February 2007. The Association is registered as an Ethiopian Resident Charity (2009).
Their mission is:
"To check the spread of HIV/AIDS in Ethiopia and support orphaned children living with the virus."
Their vision is:
"Better living conditions and equal opportunities for HIV Positive orphans in Ethiopia."
The Goals are:
-To improve the lives of double-orphans living with HIV/AIDS, through the provision of holistic care and support.
-Creating a favourable living environment for HIV positive children in the society
Specific Objectives:
-Providing foster care for double orphaned children living with HIV/AIDS in an orphanage in Addis Ababa
-Providing nutritional and educational support for orphaned children living with HIV/AIDS in the community in Addis Ababa
-Training orphaned youth living with HIV/AIDS in TVET in Addis Ababa
-Economic empowerment of families taking care of children living with HIV
-To transform the visual space of the hospitals to make them more child friendly
Activities and Programmes;
HOME BASED CARE PROGRAMME
The AFC Childrens Home was founded for the purpose of caring for double-orphaned children living with HIV/AIDS who had passed the age limit to be accepted elsewhere in other orphanages. It currently houses 14 children full time and 4 part time (as at May 2014)
THE COMMUNITY BASED SPONSORSHIP PROGRAMME
This programme is intended to serve orphans and vulnerable children living with HIV/AIDS in Kolfe Keranyo SubCity. Under this programme the children are given food items like vegetables, fruits, cereal and legumes to upkeep the balanced diet that supports their medication. On top of that, AFC also provides complete educational material, to ensure that the children continue their formal educations without the interference of shortage of school items.
THE VOCATIONAL TRAINING PROGRAMME
This programme is intended to enable youth living in the community with the virus to acquire skills they could in turn use to make a living out of, or to use as an alternate skill to increase their chances of getting employment. The trainings were given in collaboration with Government certified TVET (Technical and Vocational Education and Training) Institutes around Kolfe-Keranyo Sub City.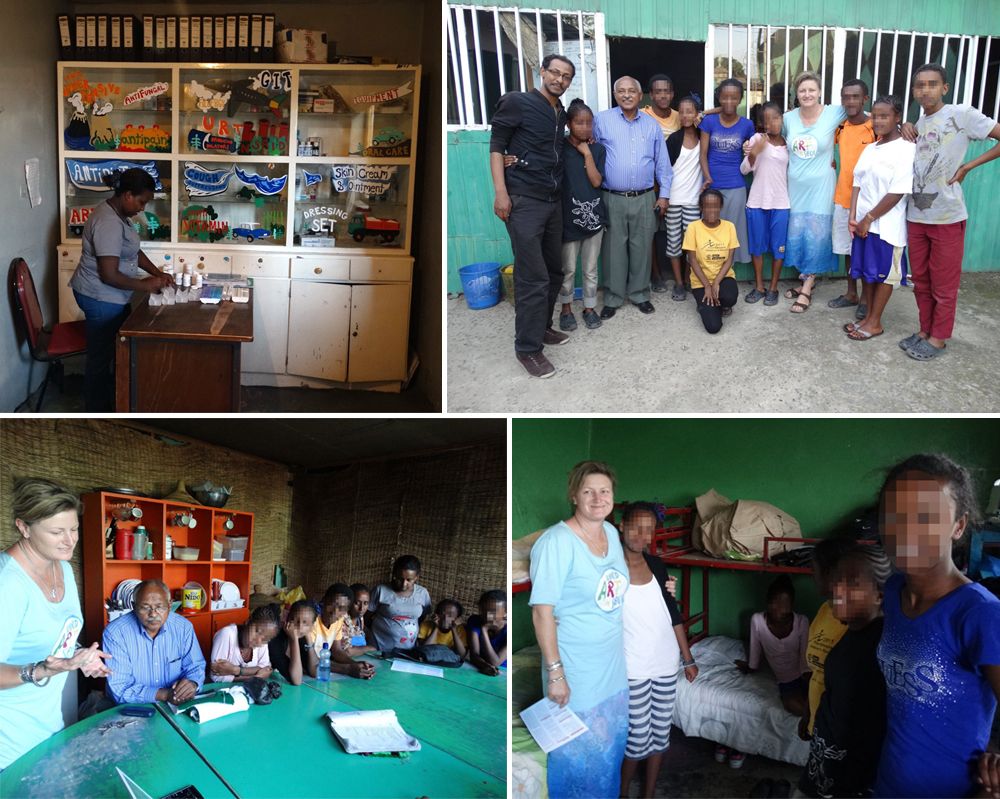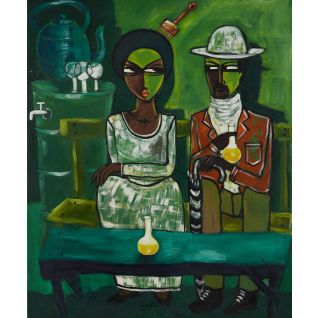 Honey Wine Lovers
Fekadu Amare
artist #8/art #1
750mmW x 900mmH
A percentage of sales of this artwork go towards Artists for Charity


Find out more about Artists for Charity: