Gresham Tapiwa Nyaude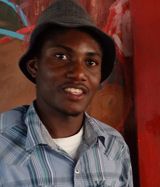 Zimbabwe
World Art n Soul is pleased to offer a limited run of 1000 prints of a work by Zimbabwe artist Gresham Tapiwa Nyaude, with 20% of the money from sales of this work going to the charity Lion Alert.
Born in 1988 in Harare, Zimbabwe. Lives and works in Harare
Mbare is Harare's and perhaps Zimbabwe's most vibrant and notorious ghetto. Allegedly ridden with hooliganism, violence and prostitution, Mbare is said to parallel the conditions of Harare for Zimbabweans during the colonial segregation era (in respect of its hardship and quality of living space). To this day Mbare retains the character of a port city with its trade, shady deals and otherwise bustle of unremitting human traffic amid urban decay.
Born and raised in Mbare, Nyaude works against the sweeping identity that has been defined by the voice of the state. His images oscillate between figuration, abstraction and hallucination, drawing from the restless energy of the ghetto. Living on the verge between survival and demise has been somewhat of a call to poetry, at times proving brutal and at others sentimental or cynically satirical. His figures defy characterisation, underscored by the humanity of their quest to attain a quality of life that appears even beyond the reach of dreams.
Nyaude gained a National Certificate in Fine Arts from National Gallery of Zimbabwe Art School.
Gresham has held over 27 exhibitions since completing his education including the following:
2014 FNB Johanessburg 2014 Art Fair - Johannesburg, SOUTH AFRICA
2013 1:54 Contemporary African Art Fair - London, UNITED KINGDOM
2013 Berliner Liste Art Fair 2013 - Berlin, GERMANY
2012 Young and Awakening at Gorgan Museum - Golestan, IRAN
2010 African colour and soho Maputo gallery MOZAMBIQUE
2008 Dumela word exhibition Georgia USA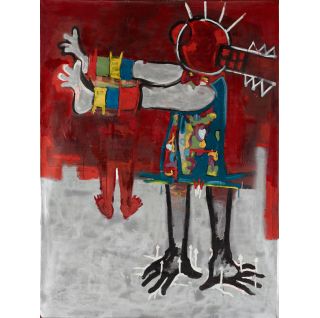 The Stand Up Comedian
Gresham Tapiwa Nyaude
artist #12/art #1
890mmW x 1200mmH *print smaller than original
A percentage of sales of this artwork go towards African Lion and Environmental Research Trust (ALERT)