Mulenga Chafilwa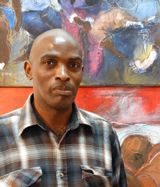 Zambia
World Art n Soul is pleased to offer a limited run of 1000 prints of a work by Zambian artist Mulenga Chafilwa, with 20% of the money from sales of this work going to the charity Luangwa Child Development Agency.

Mulenga Chafilwa was born in Lusaka, Zambia 12 April 1967. He studied from 1991-93 and obtained his Art Teachers Diploma from which time he taught Art at Matero Girls High School, Lusaka until 2006 when he finally fulfilled his dream of becoming a full time visual artist - painter/visual arts programmes organiser.

Mulenga has won numerous awards since 1991 and participated in many study trips in Africa Tanzania and Malawi and overseas including visits to USA, United Kingdom, and Norway.
He has been commissioned nine times for various art work including a painting for the Zambian Republican President in 2008. Mulenga has also been a active member of the Art Society in Zambia including holding the position of Chairman from 2007-2009 and also currently.

He has completed many workshops in and around Zambia and has held many group exhibitions in Lusaka, Livingstone, New York and Germany since 1993 and most recently (2014) at the Henry Tavali Arts Centre, Lusaka along with 8 solo exhibitions in Lusaka and Namibia.

On top of all this Mulenga has been respected highly and has acted as a Judge for Art Awards since 2007 being a Judge for the Zambia National Visual Arts Council in 2010 and 2011.

Artist Comment:
Generally, my work usually hinges on social scenes where I may look at an extreme vice or trend and 'look at the humourous side of the given situation. In no way do I wish to depict derogatory views.

A fellow artist once looked at one of my works and concluded I would enjoy visiting the slum area he resides in and especially some of the 'watering holes' where men folks meet to unwind after a hard days' work. He narrated all sorts of bizarre stories and activities that go on there.... All this in the name of getting ideas for future works.

Not that it has or would happen that any living individual would directly inject alcohol into his veins, I don't drink myself but this is just a way of making those that 'go beyond the limit' reflect on their choices and imagine how society views them.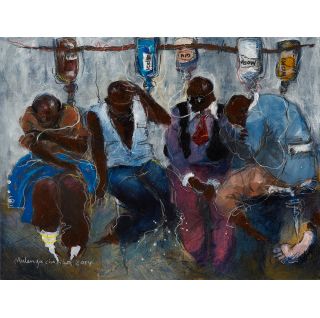 Drip Drip Drip
Mulenga Chafilwa
artist #11/art #1
830mmW x 630mmH
A percentage of sales of this artwork go towards Luangwa Child Development Agency