Nixon Malamulo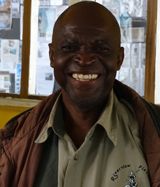 Malawi
World Art n Soul is pleased to offer a limited run of 1000 prints of a work by Malawian artist Nixon Malamulo, with 20% of the money from sales of this work going to the charities CEDE Foundation for the Deaf and CHIKONDI Disabilities & Orphan Care Centre.

"I was born in the Salima district of Malawi in 1958. I learnt how to paint thanks to a friend and neighbour, an artist from the Democratic Republic of Congo, whom we used to call Fwande. A Malawian Artist, Aubrey Moi, also taught me the basics of art even though today he has stopped painting. In the 80's and 90's I attended several workshops at The French Cultural Centre in Blantyre. I always wanted to become an artist. I was heavily influenced by impressionism. I have always been interested in landscapes and village scenes. I love Picasso because he uses shapes and forms and meaningful colours, the way I understand it, so I am also influenced by cubism. To me blue expresses happiness, green is genuine love, brown/black means cultural diversity, yellow is warmth.
Most of my customers are interested in my paintings which take time to be understood. They like colours and the way I mix the brush strokes. It gives them space to express their own feelings. I produce different colours on different compositions and different styles. Then by themselves, people create something from these paintings, they read them, they interpret them their own way. So I also learn a lot from them.
I paint because this is my life....I was born to be an artist....this is the way I feel"

Nixons art work is sold in various galleries throughout Lilongwe (the capital of Malawi) and Blantyre where he lives with his family. It is very difficult to make a living from Art in Malawi as visual artists are not well recognised, respected or appreciated enough within Malawi. Nixon has also completed African Movie Awards Academy training in Blantyre and the Malawi International Film Festival training in Lilongwe in 2009. In 2011 he was invited by Arterial Network to take part in the first African Creative Economic Conference in Kenya which he thoroughly enjoyed meeting other artists from other disciplines from other countries and the chance to 'learn'.

Nixon is a committed volunteer at many youth charities in his local area - he considers himself an 'art missionary'. He teaches art for free at the Mpemba Juvenile Reformatory Centre, the Samaritan Trust, the CEDE Deaf Foundation as well as the Chikondi Disabilities & Orphan Care Centre.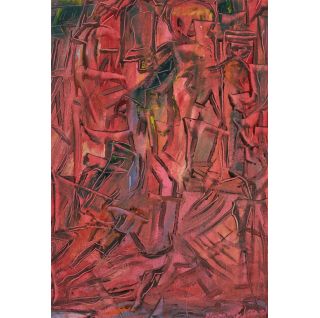 The Happy Market
Nixon Malamulo
artist #10/art #1
620mmW x 920mmH
A percentage of sales of this artwork go towards CEDE Foundation and CDOC CHIKONDI Disabilities & Orphan Care Centre