Yussuf Khamis Yussuf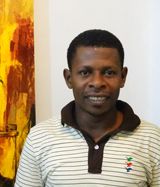 Tanzania, United Republic Of
World Art n Soul is pleased to offer a limited run of 1000 prints of a work by Tanzanian artist Yussuf Khamis Yussuf "Bayuu", with 20% of the money from sales of this work going to the charity The Baobab Children's Home.

Yussuf, nicknamed 'Bayuu' by his mother was born in Zanzibar in 1973 where he still resides in Stone Town with his wife and children. Following his secondary education in 1991 he completed a 2 year course in Painting, Printing and Art Lessons at the Art and Craft Factory in Zanzibar. In 2002 he attended a 5 week abridged course, entitled 'Introduction to Visual Art', in the same year he also participated in a handmade papermaking and paper casting course.

"I love Art, and I believe in everything is about Art....without Art - no world - no life. I have participated in several art exhibtions, in and out of Tanzania I presented my painting at the 19th International Children's Art Exhibition in 1989 which also won a gold medal. It was presented also at; the Agakhan Cultural Centre Art Exhibition, Art Every Day US Gallery Exhibition in USA, Affordable Art Show at Dar es Salaam Tanzania, Austin College Hall Art Exhibition Texas USA etc. Several pieces of my work are permanently displayed at different places."

Bayuu is a well known artist in Zanzibar and receives many commissions, his artwork is sold both nationally and internationally. His paintings were selected for the International Film Festival of the Dhow Countries Poster (2000) and for the Unicef Poster for Mother and Child World Week (2000). He has also won several awards and honors, since childhood for his artwork, including winning the Zanzibar International Film Festival postage stamp in 2000.

Bayuu teaches art and techniques to many people from various countries from his gallery base in Stone Town, Zanzibar.

Zanzibar Coffee Seller
Yussuf Khamis Yussuf
artist #9/art #1
860mmW x 1220mmH
A percentage of sales of this artwork go towards The Baobab Home