Mery Borah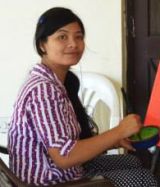 India
World Art n Soul is pleased to offer a limited run of 1000 prints of a work by Indian artist Mery Borah, with 20% of the money from sales of this work going to the charity Tamar: Freeset Global.

Mery Borah was born in Jorhat, Assam - one of the north-eastern states of India. She did her BFA from Govt. College of Art & Craft, Guwahati, and then she came over to Kolkata for her Masters at Govt. College of Art.

Her father works in the tea industry and her mother is a home-maker. Mery has one brother and two sisters. Her parents always encouraged her and supported her whole-heartedly when she told them about her dream to become an artist.

Mery was also one of the Winners of Bengal Art Talent Hunt 2013 - an annual event titled ' Journey of Art' organized by Bodhi Tree Monastery of Art - a leading gallery and art portal based in Kolkata. Her painting also won the Curator's Prize during Jodhpur Art Camp 2013.

Mery wishes to make social comments through her works which depicts objects we use in our daily life.

She loves to read, dance and spend time with little children.

Scream
Mery Borah
artist #4/art #1
960mmW x 1260mmH *print smaller than original
A percentage of sales of this artwork go towards Tamar: Freeset Global