Charles Cham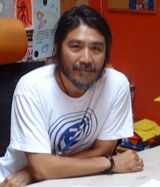 Malaysia
World Art n Soul is pleased to offer a limited run of 1000 prints of a work by Malaysian artist Charles Cham, with 20% of the money from sales of this work going to the charity Orangutan Foundation International.

Charles Cham's abstract art work is based on the philosophy of Yin and Yang - the duality of life and the attractions of opposites. He believes that everything has another side, visible or not.

"The Yin and Yang paintings are actually multiple paintings." he says. "They are in fact two paintings on one canvas, each one facing in the opposite direction. I believe that drawing is thinking and painting is feeling. Therefore, I draw what I think and paint what I feel. As there is no feeing without thinking, there is also no painting without drawing. Sometimes I feel more comfortable calling my works painted drawings rather than just paintings."

Charles Cham is often asked why he doesn't just paint landscapes, pretty watercolours of village scenes with plenty of fruit and people colourfully dressed - the kind of art work that is often found at tourist sites. Instead he puts his emphasis on the primitive, with the disjointed figures in his paintings resembling the images found on the walls of prehistoric cave dwellings.

Kuala Lumpur artist and art historian Redza Piyadasa describes Charles Cham's work as evocative of the rich tribal cultures of Southeast Asia with its allusions to a naive, childlike and simplistic vision.

Charles Cham has lived and painted in France, New York and Budapest, and his works are in private collections in more than 40 countries. He currently based in Malacca, Malaysia, working from his studio in the second floor of an old wooden house, in an area surrounded by brightly painted Chinese shops, a Dutch-built church and ruins of a fort overlooking the Strait of Malacca.

His gallery is housed in an old Chinese clan house, that he has gutted and painted with his trademark vivid colours, and depicts his commitment to social activism - the text of the Declaration of Human Rights is painted on a wall.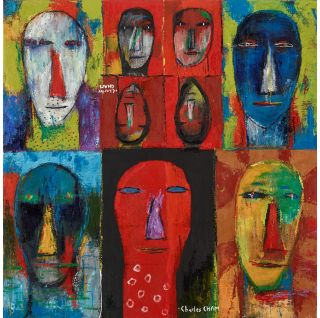 Beautiful Day
Charles Cham
artist #1/art #1
770mmW x 760mmH
A percentage of sales of this artwork go towards Orangutan Foundation International